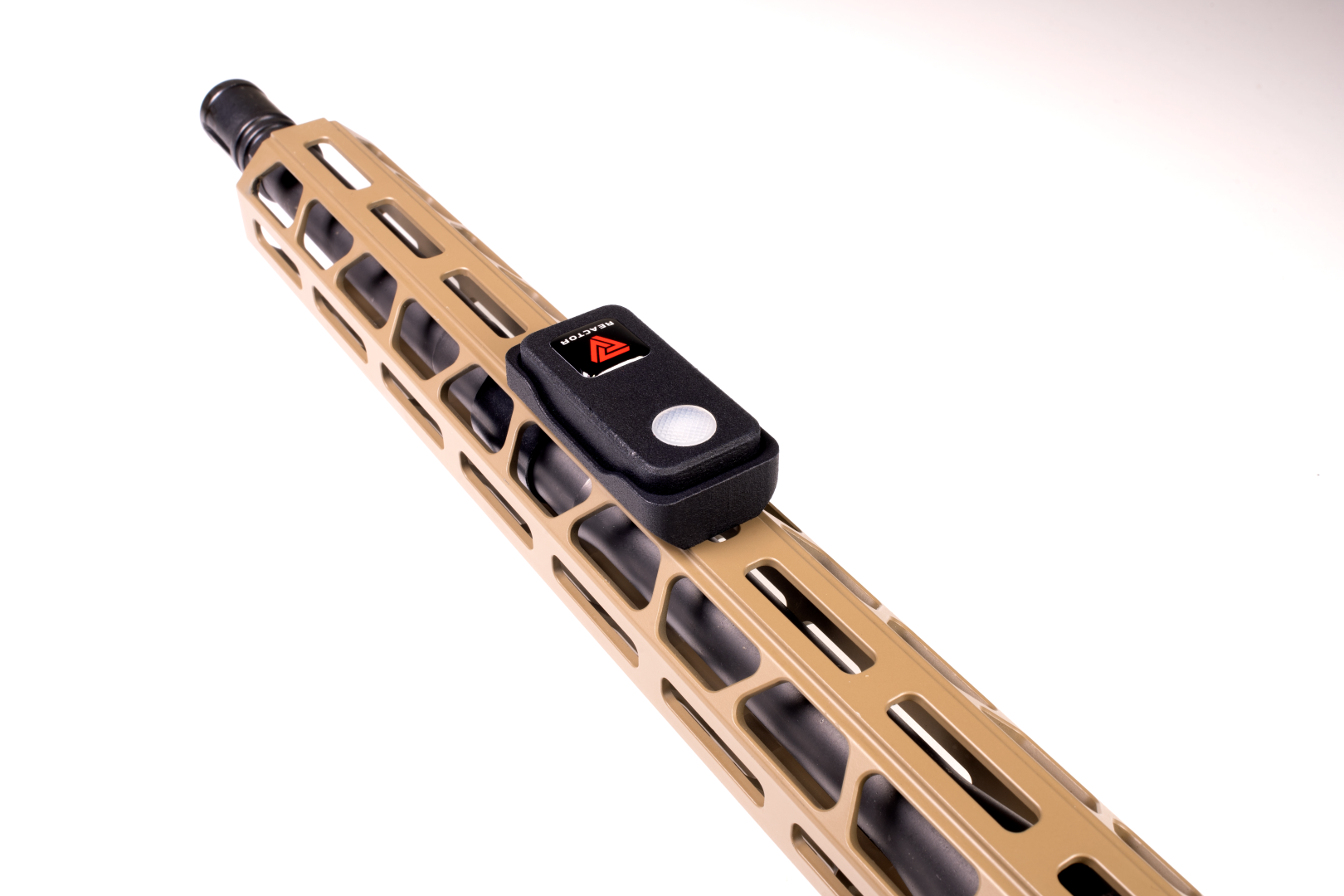 To purchase, email [email protected].
Our product is built for manufacturers and high performance shooters
How much felt recoil did that suppressor add? How much more hop is that bipod causing?
Whether you manufacture rifles, muzzle brakes, suppressors, bipods, stocks, or ammunition, you must have data about what your product actually does to a firearm or shooter. Our product measures the three types of impact that determine accuracy and comfort: acceleration, rotation, and audio levels.
The problems we address are:
Testing equipment is specialized and expensive. (Competing products range from $1,000 – $100,000+)
Collecting data is a repetitive process, with no automated tooling to perform real-time capturing and uploading of the data.
Extracting insights is cumbersome, manual, and requires hours of setup and analysis to reach a threshold for actionable insight.
By providing hardware devices that work directly with our dashboards, Reactor helps reduce up-front costs associated with data collection hardware, reduce man-hours associated with R&D, and bring expert analysis tools to everyone.
Compare us to the competition
No matter what other DAQ tools you use, ours is easier to use and is a fraction of the cost.
Here are some specs:
Price
$699
Dimensions (without mounting hardware)
2.09 in x 1.08 in x 0.55 in (L x W x H)
Weight
– Fusion Module by itself: 0.7 oz
– Fully mounted with M-Lok option: 1.0 oz
– Fully mounted with Pic Rail option: 1.1 oz
Mounting Options
– M-Lok
– Picatinny
– Magnetic bottom
Battery
– 3.7 V 110mAh Li-ion
Sensors and Capabilities
– 3.2 kHz triple axis acceleration measurement at +/- 200 Gs
– 25 kHz bore-axis acceleration measurement at +/- 500 Gs
– 16 kHz digital mic
– 9-DOF IMU
– Ambient temperature, pressure, and humidity sensor
Data Storage
1 GB (enough for 3 hours of recorded sensor data)
Charging
– Micro USB
– < 1 hour charging
Wireless
Bluetooth Low Energy (v5.2)
Ports
Micro USB
Buttons
1
Lights
1 full color status LED underneath button
Water and Dust Resistance
Not water resistant due to humidity, temperature, and pressure sensors needing ambient air exposure via USB port
When you buy a Reactor One, you get the following
A Reactor One will come with the following parts in the box:
Reactor One unit
Pic rail mount
M-Lok mount
USB Charging Adapter
Micro-USB Cable
Access to the Reactor One mobile app to allow you to record data and export it as a CSV.
Check out the Reactor One Dashboard
The Reactor One Dashboard is a subscription web app that automatically loads up your recorded data and gives you charting and calculation tools. It allows you to go from the firing range to the computer seamlessly, without moving around CSV files, loading into Excel, and cleaning up data. You can go from data to insights in less than 10 minutes.
Have us do it for you
We offer a Reactor Data Analysis Service where we will use our years of expertise to help you analyze your own data. It's super easy to get started.